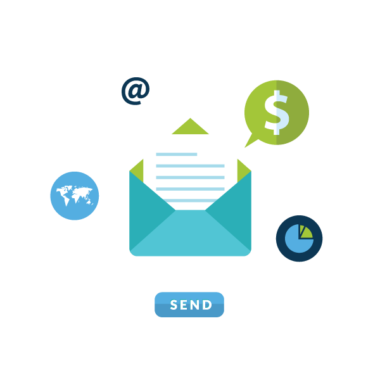 Email Strategy Marketing
Let us maximize on the return on investment (ROI) for your next email campaign with our specialized process. We will deliver your goals and objectives by creating an engaging email strategy marketing campaign between your brand and recipients.
PHASE 1:  Audience Research & Analysis
It is essential to know the way of your recipients in order to accommodate towards their expectations, attitudes, and culture.  Try to assemble as much relevant details about your audience as you can from your email signup form.  A few examples of information that can be asked to include are company, title, and location.  Only ask for relevant information that we will use to separate your email strategy marketing campaigns.  Requesting for too much information can lower your email signup rate.
PHASE 2: Email Strategy Marketing Goals & Objectives
Our team is ready to design, build and supply an email template for communication with your audience as well manage your email marketing campaign to lead to dramatic shifts in your sales and profitability.
PHASE 3:  Email Design
Our design team will structure your emails to accommodate towards your goals and your target market. Through measured placement of powerful calls to action and supported relevant images, we will optimize your click through rates. The intention of an email is to initiate clicks and bring traffic to your site. Once you bring the recipient of the email to your website, it is important to implement the subscribers' expectations and gain a conversion with the use of a proper landing page that shows components of the email to create a consistent user experience.
PHASE 4:  Email Strategy Marketing Optimization
Nobody likes to receive an email that isn't addressing their specific wants or needs. We send relevant messages to recipients who look forward to them through use of segmentation, analytics, and past user activity.  All of our email marketing strategy campaigns take advantage of A/B testing options to measure and optimize your click through and open rates. This helps to make sure that your newsletters are created to email best practices, as well as brand-specific data that allows us to create an email that is perfectly tailored to your customers.
PHASE 5: Tracking & Analysis
In order to make sure your email strategy marketing campaigns are getting the best possible ROI, extensive tracking and measurement of results is required. We make sure that statistics like open rate, click-through-rate, and hard and soft bounce rate are all tracked and measured. We also measure what percentage of your overall traffic is leading to actual sales, so that you can see how much email marketing is helping your business to grow.
OH HEY!
Be Sure To Sign For Our Newsletter To Receive All The Latest Tips & Insider Information
We handle everything starting with individually tailored content till end-to-end email campaign and programmer management.
Increase your online presence by choosing our email marketing services. Our award winning formula combines strategy, implementation and tracking.
Generating Email Campaigns
Designing Email Templates
Increasing Email Subscribers
Tracking & Reporting Parameters
Tell Us About Your Project
Let us help you get your business online and grow it with passion
We design unique style emails with personalized content to help you sell a product, promote a cause or provide a service. We bring your message out to the masses.
"Excellence in communication, quality work, and client care and understanding is exactly what Digital Evolution Marketing will give you. The time given to learning about my business, understanding my needs, and what I represent was amazing and helped me to develop a Logo that was above and beyond what I could have imagined. I look forward to my future works with Digital Evolution Marketing as I further progress with my business and would stake my name at how wonderful it was to work with Renee Bastermajian. Her insight and critical attention to detail was key in my logo and helping to plan for the future and where to take my business marketing to the next level. I couldn't be more greatful and happy." - Samantha Travis (Essence Home Healthcare of Illinois) Samantha Travis
CEO & Founder
"Dear Renee (Digital Evolution Marketing, John and I wanted to take a minute to document our thanks and our level of satisfaction with the work you have done on our logo, web design, business cards, forms, billing setup, and the list goes on and on.  Your level of expertise, effort, and enthusiasm is refreshing to see in a young professional.  We wish our business was big enough to employ you on a full time basis - we would be lucky to have you.  Please feel free to share this letter with any potential clients as well as using either or both of us as references.  We truly appreciate what you have done for us and TrainMSP." - Stella Kasser (TrainMSP) Stella Kasser
Phlebotomist
"Great service Digital Evolution Marketing. It was a pleasure working with them.  They did a fantastic job at capturing the essence of my requests, translating them into a visually appealing logo for my American Ninja Warrior persona.  They listened and communicated every aspect of the branding process, in an expedited manner. Looking forward to working with them in the near future!" - Cornel Nitache (Mr. Symmetry Ninja) Cornel Nitache
Personal Trainer & Ninja Warrior Competitor