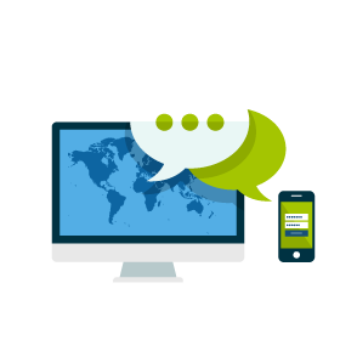 Social Media Marketing Strategy and Management
As long as the internet exists, people will be talking about your business and brand. Is it important to be part of that conversation!
We will tailor Social Media Marketing strategies specifically conceived for your brand and your audience. You'll get fully supported and managed social programs, content planning (and generation), blogger outreach and video distribution among other services that aim to attract new customers and increase your profitability.
Our manage social media account services provides you the possibility to connect and share information leading to an increase of the brand's, product's or service's awareness. The results of Social Media Advertising are reflected in the number of re-tweets, shares, comments, likes and views. Social Media Marketing encourages user-generated content from within the most popular social media platforms such as Facebook, Google+, Twitter, Pinterest and LinkedIn.
We are a full service SEO agency. Our social media experts can help you establish your business objectives, identify your target audience, create engaging and share-worthy content and finally integrate your social media with all other aspects of your online presence.
Brand Monitoring
We can help you improve and track the reputation of your business and find out how people perceive your brand.
Social Media Contests
Facebook, Twitter or Pinterest content can increase your traffic in a short period of time. Our experts can help you determine the most suitable type of content and platform for your brand.
Social Media Management
Our team of social media experts can manage your accounts on your behalf and engage with your audience.
Setup & Custom Profile Design
We create and customize Social media profiles with quality content and aesthetics that resonates with your brand and audience.
"Excellence in communication, quality work, and client care and understanding is exactly what Digital Evolution Marketing will give you. The time given to learning about my business, understanding my needs, and what I represent was amazing and helped me to develop a Logo that was above and beyond what I could have imagined. I look forward to my future works with Digital Evolution Marketing as I further progress with my business and would stake my name at how wonderful it was to work with Renee Bastermajian. Her insight and critical attention to detail was key in my logo and helping to plan for the future and where to take my business marketing to the next level. I couldn't be more greatful and happy." - Samantha Travis (Essence Home Healthcare of Illinois) Samantha Travis
CEO & Founder
"Dear Renee (Digital Evolution Marketing, John and I wanted to take a minute to document our thanks and our level of satisfaction with the work you have done on our logo, web design, business cards, forms, billing setup, and the list goes on and on.  Your level of expertise, effort, and enthusiasm is refreshing to see in a young professional.  We wish our business was big enough to employ you on a full time basis - we would be lucky to have you.  Please feel free to share this letter with any potential clients as well as using either or both of us as references.  We truly appreciate what you have done for us and TrainMSP." - Stella Kasser (TrainMSP) Stella Kasser
Phlebotomist
"Great service Digital Evolution Marketing. It was a pleasure working with them.  They did a fantastic job at capturing the essence of my requests, translating them into a visually appealing logo for my American Ninja Warrior persona.  They listened and communicated every aspect of the branding process, in an expedited manner. Looking forward to working with them in the near future!" - Cornel Nitache (Mr. Symmetry Ninja) Cornel Nitache
Personal Trainer & Ninja Warrior Competitor
Tell us about your project and start the transformation
Our team can help you unlock the full potential of your social media marketing, SEO and online publicity!